Prof Revolution DVB-S2 7301 PCI
$75.00 plus $12.50 Shipping in the Cont. 48 United States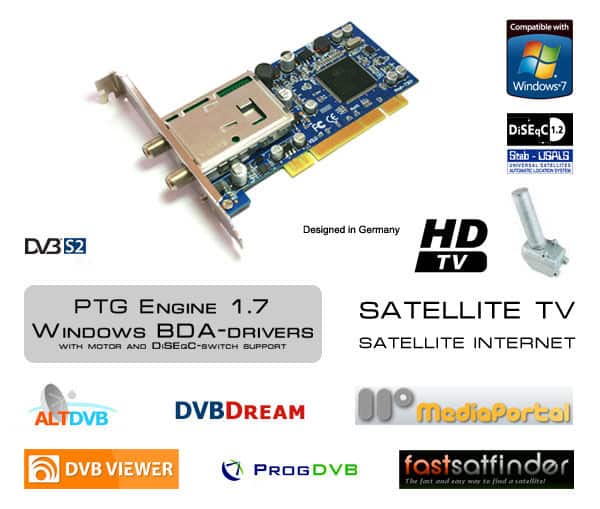 High sensitivity
Features of reception and presentation of DVB data services (high-speed multicast and internet access)
Support of AltDVB, DVBDream, DVBviewer, ProgDVB, MediaPortal, FastSatFinder
DiSEqC 1.0, 1.1, 1.2, USALS
Remote control
Drivers for Windows XP/Vista/Win7
BDA-driver (Broadcast Driver Architecture) supports many 3rd party applications
Designed in Germany
Video Features
HDTV support (MPEG2 and MPEG4/H.264)
AC3 5.1 software decoder
Support of DXVA (DirectX Video Acceleration) for H.264

Plug and play installation
Recording and playback via TV/radio
Teletext
Time shift support
Electronic Program Guide (EPG)

Additional Features
Prof DVB-S2 7301 can operate with Manna, Skynet, SkyGrabber, FastSatFinder software and different plugins for DVBDream, ProgDVB, DVBviewer.
Photos
Included in the Box
DVB-card – 1 piece.
CD with drivers and software – 1 piece.
Remote control – 1 piece.
Batteries AAA – 2 pieces.
External IR-receiver – 1 piece.
Quick-start guide – 1 piece.
System Requirements
OS: Microsoft Windows 32bit 2000/XP/Vista/Win7
CPU: 2,0 GHz
512MB RAM
Sound card
PCI-slot
Suitable digital satellite dish
System Requirements for HDTV in h.264
Video card ATI or NVIDIA:
ATI with ATI AVIVO HD: Radeon HD 5000 Series, Radeon HD 4000 Series, Radeon HD 3000 Series, Radeon HD 2600 Series, Radeon HD 2400 Series, Radeon HD 4200/AMD 785G Chipset, Radeon HD 3200/AMD 780G Chipset, Radeon HD 3300 IGP/AMD 790GX Chipset.

NVIDIA with Purevideo HD: GeForce 200 Series, GeForce 9 Series, GeForce 86xx, GeForce 85xx, GeForce 84xx.
Technical Specification
8PSK/QPSK direct conversion tuner IC: STB6100
Powered by RF Magic
Direct conversion
Input range 950 to 2150 MHz
Supports 1 to 45 Msymbol/s
Fully integrated LO and PLL
Differential I/Q outputs
Buffered XO output to clock other devices
Low external component count
Low power consumption
2-wire I2C serial interface
8PSK/QPSK support
Simple interface to ST's satellite demodulator devices
Low phase noise, excellent linearity and LO harmonics rejection
Small QFN-32 pin package
Multi-standard advanced demodulator: STV0903
Multi standard demodulation
Technology
80 nm CMOS process

Multi supply: 1.0-V core, 2.5-V analog, 3.3-V digital interfaces

Power saving features

LQFP128-EP 14 x 14 package, RoHS
Prof Revolution PCI 7301 Review
Prof Revolution DVB-S2 7301 PCI
$75.00 plus $12.50 Shipping in the Cont. 48 United States

Prices shown Include Shipping within the 48 Cont. United States.
Ricks Satellite
Sales, Service & Local Installation -- C / Ku / MPEG2 Satellite Systems / DSS Accessories
316 NE Summit Drive -- Blue Springs, Missouri 64014 USA -- 816-228-1801

Major Credit/Debit Cards Accepted
Money Orders and Checks accepted also.

Ricks Satellite cannot offer for Sale any Manufacturers Extended Warranties. They must be purchased directly from the Manufacturer.

PAY PAL Address is RickCaylor@aol.com or RicksSatellite@aol.com
Most Orders Shipped Same Day! UPS Tracking numbers are also provided!

In Association with Gofastmotorsports.com
Ricks Satellite Home - Satellite Receivers - PCI, PCIe Tuner Cards & USB Satellite Receivers - A/V Receivers - Satellite Systems - Satellite Dishes
Signal Meters - LNBs/LNBFs - Feed Horns - Dish Movers - Actuators - Servo Motors - Signal Combiners & Amplifiers - Multi Switches & Diplexers
DiSEqC Switches Remotes - Coax Cable & Satellite Ribbon - Installation Accessories - Splitters - Channel Modulators & Video Senders
Off Air Antennas - Antenna Mounting Supplies - Tripods - Wall Mount Brackets - Masts - Poles - Pipe Adapters - Etc.
Last Update; 09/26/19 11:55 AM
Copyright by Ricks Satellite 2003-2019